The William Smith Interactive Website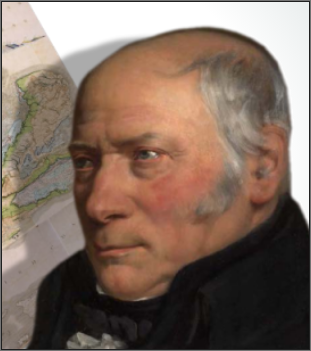 To celebrate the Bicentennial of the publication of William Smith's first edition of his Geological Map of England and Wales, a group of leading 'Strata Smith' experts developed and launched a free-to-all educational resource, designed for teachers, students, academicians and anybody with an interest in the life and work of this visionary.
Led by Peter Wigley, Peter Dolan, Tom Sharpe, Hugh Torrens and Dave Williams,  the site compiles a unique collection of digital Smith Maps sourced from the Geological Society, Oxford University Museum Of Natural History, the National Museum Of Wales, Stanford University and Nottingham University.
The collection, along with all of Smith's published and a number of unpublished county maps, can be compared not only across editions but also with modern geology, seismic, wells and topography. The site also provides a wealth of information on Smith himself and the principles of stratigraphy. Animations are provided allowing the viewer to fly through selected profiles.
The website also provides a unique insight into the 'Map That Might Have Been', through a mosaic of images compiled from Smith's published County Maps and digitally enhanced manuscripts obtained by the team.
The Strata Smith Website has been funded by a grant from the UK Onshore Geophysical Library and developed by Lynx Information Systems Ltd.