| | |
| --- | --- |
| Select Region: | Select Licence: Loading... |
Prospecting Licences 1966
Although a number of exploration licences were issued prior to 1935 under the Petroleum (Production) Act 1918, the main licensing regime for onshore UK came with the introduction of Prospecting Licences. These were issued under the Petroleum (Production) Act 1934 and in accordance with the provisions of the Petroleum (Production) Regulations 1935.
Prospecting Licences were issued between 1935 and 1965 (extant until 1968) before being replaced by Production Licences in accordance with the amended Regulations 1966. The change also saw the introduction of Licence boundaries based on the UK National Grid.
Information for the history of each Prospecting Licence has been pieced together from original hand-written ledgers still held in NSTA archives.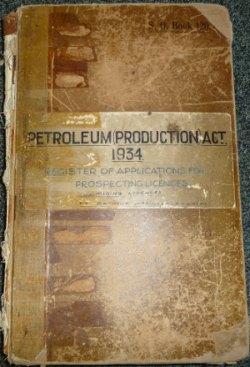 Further details have also been compiled with the assistance of the London Gazette which published formal announcements relating to all Licences.
Where available, links have been provided to the original publications as issued through the London Gazette website (http://www.london-gazette.co.uk) and include all Licence boundary definitions from the time of initial award. We would like to offer our thanks to the London Gazette who have provided kind permission for UKOGL to display their PDF pages.